What it is
This event will be a 1.8 mile uphill electric skateboard race at a Downhill event to commemorate 20 years of #barrettmotherfuckingjunction,
The world's longest standing downhill race. This is going to be big! Racing, live music, camping, gambling, don't miss it!
Please note that this is an Outlaw event. There will be no permits, not permission, no medics on standby, just a bunch of hooligans engaging in hooliganery.
When it is
This event takes place January 19-21, 2019. The following is a rough schedule that may be subject to change:
Saturday, January 19th:
10am practice
3pm Classic luge / Team racing / Masters / Uphill Race
4:30pm Women's skate and women's luge
7pm/ after dusk TECATE 500
8pm-12am Live music at the cafe
Sunday, January 20th:
10 am practice
1pm Luge, Am skate
2:45pm Pro skate
6-10pm Live music and awards at the cafe
Monday, January 21st:
After camping at the cafe we will tour several Southern California classics starting with San Diego favorites Zuma and Backside, then north to GMR and Malibu.
Where it is
1020 Barrett Lake Rd, Dulzura, CA 91917
https://goo.gl/maps/7SVJy69EN8T2
Get Registered
$25.00 race entry includes event T-shirt. Registration and entry fee are due on the hill at the event.
Bands please contact Brandon or Ryan Farmer directly to get a set list together. Even if arrangements have been made already, please call and verify.
Meal and beer tokens with entrance and live music Saturday night until midnight and Sunday until 10!
T shirts and swag bag included as well!
$50 pro skate
$25 (includes meal, shirt,swag, NO beer token) Am, Luge, classic luge Women's luge, Women's skate.
$5(or 5 beers) Tecate 500,
Team racing is free, the rules will be announced on the hill
Masters Skate and Master's Luge are free (40+)
More Details
For more details on registration, or for any event related questions, contact Brandon Biggs at stoogeraceboards@hotmail.com
More information can be found on the facebook event page: https://m.facebook.com/events/433405593843526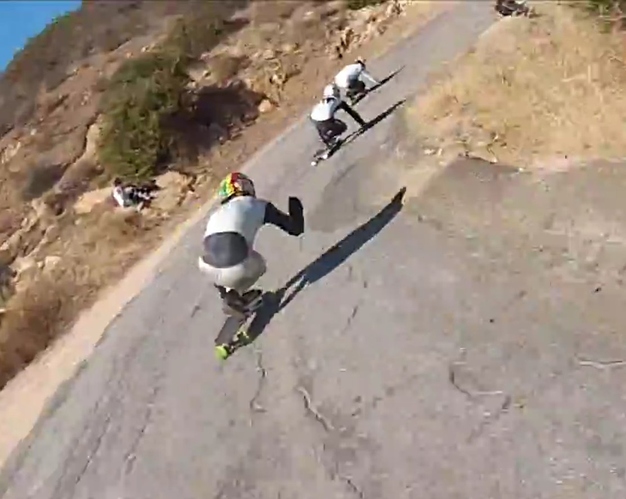 Share and tag #barrettmotherfuckingjunction #outlawracing #downhill #calivsRado
Race Roster
Joe Vivilacqua
dual motor Carvon Speeddrive v4 build, 12s4p on 97mm flywheels. Board name "Marble"
Ben Glenn
Enertion R2x4 quad
Art Zuniga
Stooge V1 3-link dropdeck mod.8 geardrive 8400w custom dual
Jason Lucier
Custom Dual RB, DH-37
"Purple People Eater"
Jonner
Hoyt Race Spec
Justin Morgan
12kw Stooge Raceboard 44″ Woody
Moe Stooge
10kw Stooge Raceboard
"Ol Gumpy"
The roster, along with event details, are still being updated and may be subject to change. Check back often for current updates.
Latest posts by damon wood
(see all)