I feel like we've been here before. Enertion is dead, both online and in reality. The OG esk8 forum has been going down monthly, the last FOCBOX Unity's have been sold, and the community has been ready to say goodbye for a while.
I've followed Enertion closely since I met them in Berlin last summer on their Raptor World Tour, and I genuinely thought they were going to make a comeback. I lost hope when the forum went down for the first time, only to regain it again when EnertionBoardsUSA opened shop. However, it seems to me that the doomsday predictors may have been right after all now that Kurt Benson has announced he is done with esk8. That being said, it's finally time to give this once influential company the proper funeral that it deserves.
2014/15 – electric-skateboard.builders
Originally, Enertion started as a one-man band selling products through Reddit. Not long after (according to the earliest threads I could find), founder Jason Potter started the electric-skateboard.builders forum and started selling/marketing his products there instead (early 2015).
Throughout the coming years, he would use this forum to educate Enertion's growing customer base about the different kinds of electric skateboard parts available. The forum also served as a discussion place for all those interested in DIY and Esk8s. Some of the earliest members to join were among the likes of our own Damon and Jamie.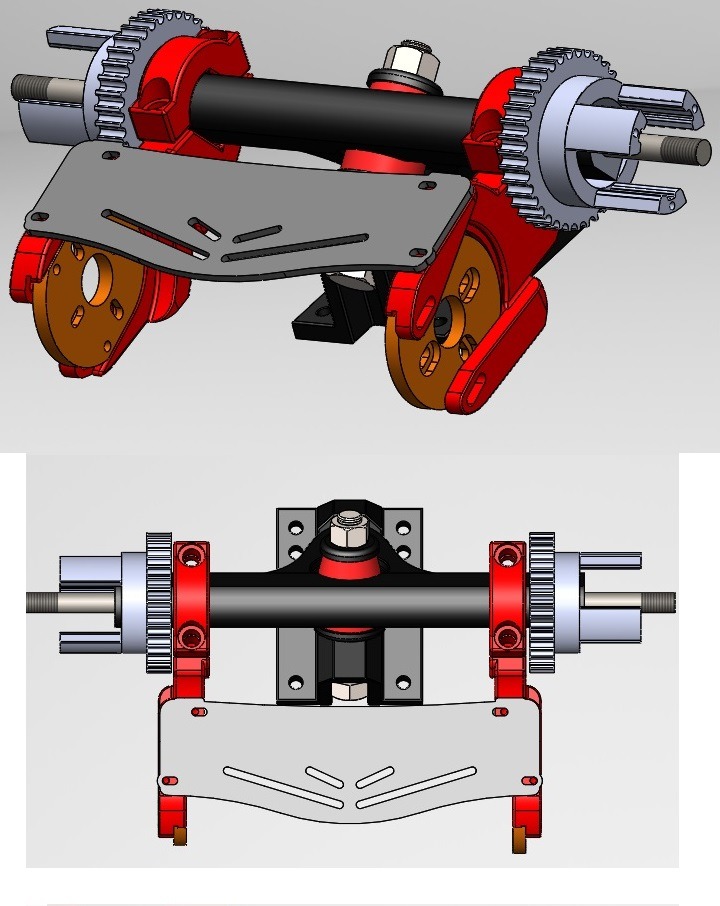 Jason posted threads that were a combination of how-to and "hey, look at this new thing you can buy from me!", and this was often an extremely effective approach. Starting with V2 R-Spec motors and moving on towards batteries, VESCs, mounts, and the original Raptor Deck, Enertion's products and ambitions expanded rapidly.
Late 2015 – The Raptor Mono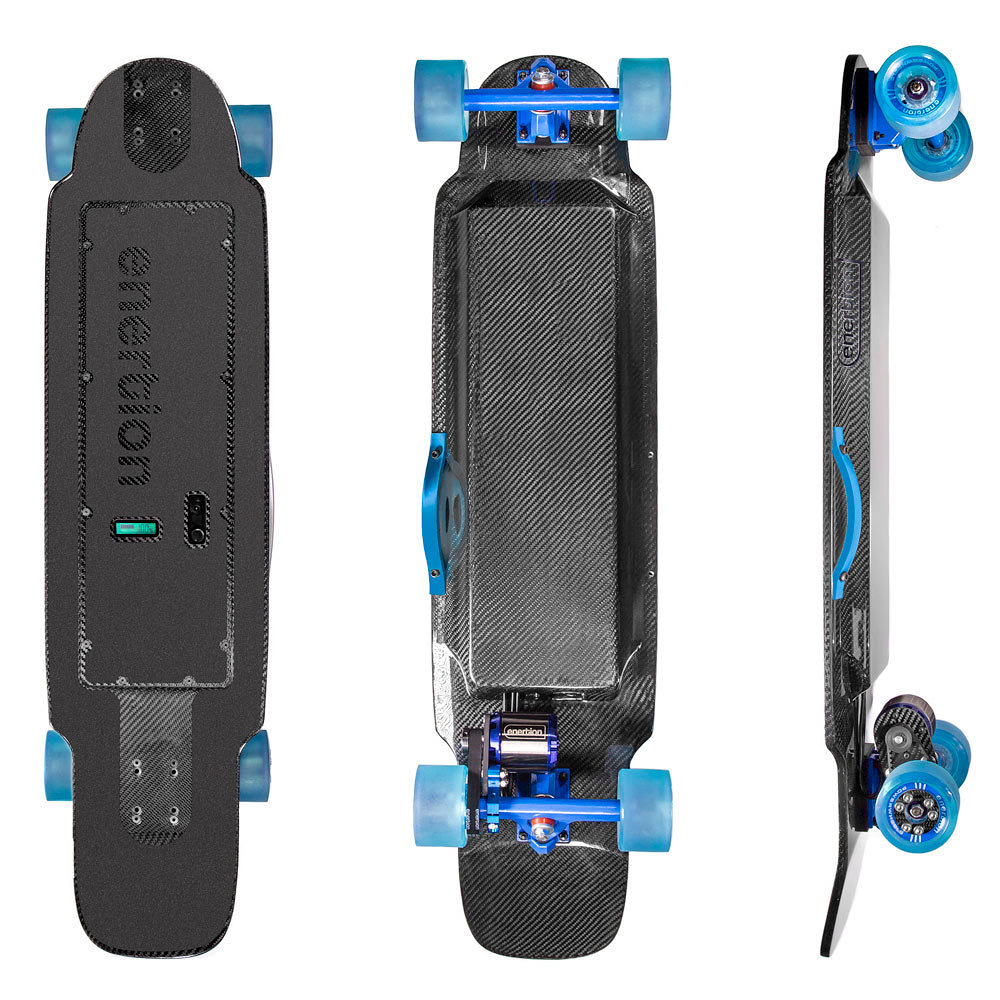 In November 2015, Enertion officially released the Raptor Mono, a single drive electric skateboard with a carbon fiber deck, new s.p.a.c.e. cell battery pack, a 2nd gen Enertion motor mount, V2 R-spec motor, 4.12 VESC, and a Wii nunchuck-style controller (later changed to a steez-style remote).
The Raptor Mono was priced at $1149 usd and was incredibly popular. Later on in the same thread, the Raptor Dual was also announced. To this day the carbon fiber decks from the original raptor can sell for up to $300 in good condition.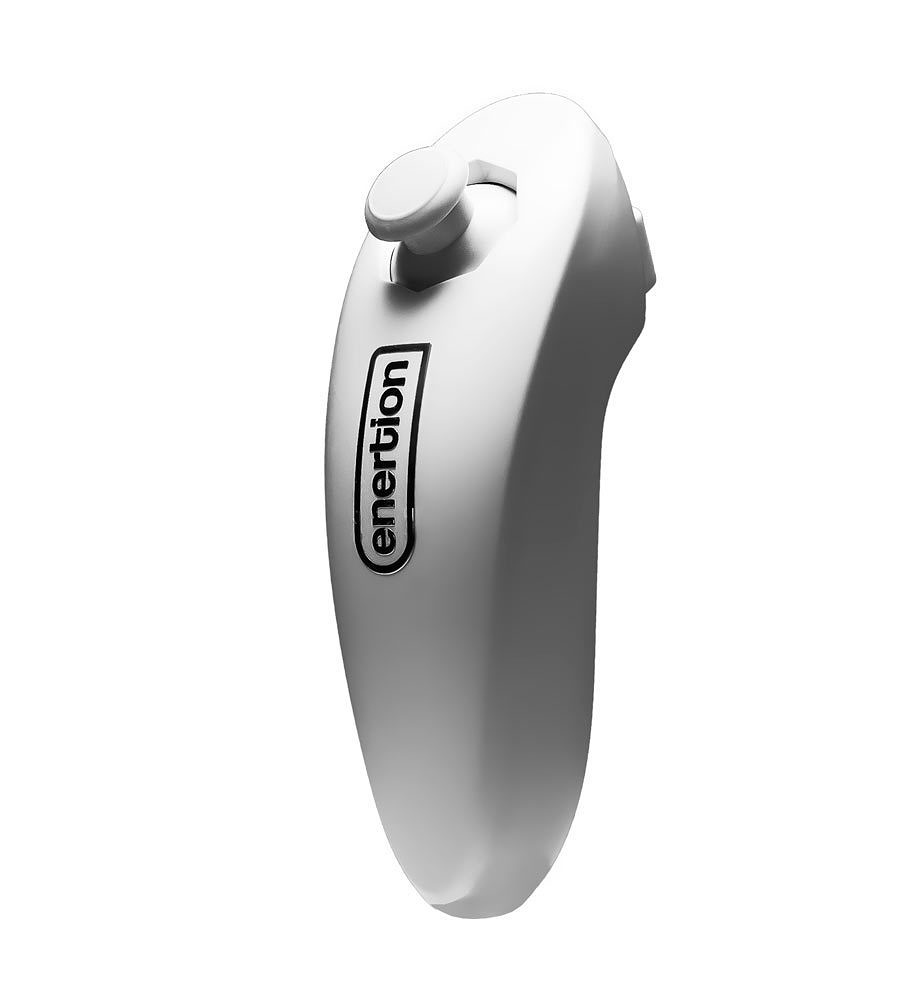 2016 – Raptor 2 and VESC-X (FOCBOX)
Following the immediate success of the OG Raptor, Potter expanded his team and focused on coming up with the next big thing. Convinced that a certain drive style would be the future, the Raptor 2 came to life with something that the DIY community was always a bit skeptical of: hub motors.
Enertion promised that two massive hub motors at the rear of the board would make it more powerful than anything else on the market. At the insistence of a company that had proven reliable thus far, the public gobbled it up.

In addition to the unique drive assembly of the Raptor 2, Enertion decided that it was time for the VESC 4.12 to get a face lift and announced the VESC-X in October 2016 with new form factor, direct-fet technology, and more. The VESC-X (later renamed "FOCBOX" after a trademark situation with Trampa) is still one of the most sought-after speed controllers for DIYers.
After a successful initial round of buyers through the forum, the Raptor 2 kickstarter was announced in November 2016 and raised over $100,000 AUD with 63 backers. Initial pricing for the board started at $1129 USD. Enertion also introduced the "110% Refund Guarantee" which would come back to haunt them later on.
Throughout the initial manufacturing process as well as the later development, Enertion experimented with different ways to make the Raptor 2 unique. For a few months, plans came forth that were innovative but questionable with proposals for adjustable baseplates, wooden rocket decks, and other ideas.
The wheels also came together, with Enertion advertising that they would be made in the US to very high standards. Later this promise would be disputed with multiple issues arising with the urethane for the Raptor 2.
Threads were posted throughout the year with potential products from Enertion, gauging public opinion and taking in feedback. For example, it could be argued that the idea for the Unity first came together in 2016 where Jason posted a dual Vesc capacitor board design.
2017 – Raptor Delivery and Issues
In August of 2017 the Raptor 2 started getting delivered to customers, and initial reviews were good except for some complaints about the awkward placement of the handle. The new forum "electric-skateboard.club" was launched online to specially support Raptor users.
That October, however, people started realizing that there were some glaring flaws with both quality and safety that put success of Enertion's dream child in question. The remote was revealed to be a rebrand and reshell of the Winning remote which had proved unreliable in the past, and the rear axle of the 2.0 trucks had a nasty habit of snapping due to its 8mm diameter.
Additionally, it was pointed out that Enertion's advertised 16.5mm of urethane on the motors was only for a small portion of the motors, with the rest being a paltry 11mm thickness. This thin thane and questionable quality of the material itself led to the rear urethane disintegrating after just a few hundred miles of riding, and leaving Raptor owners in the lurch.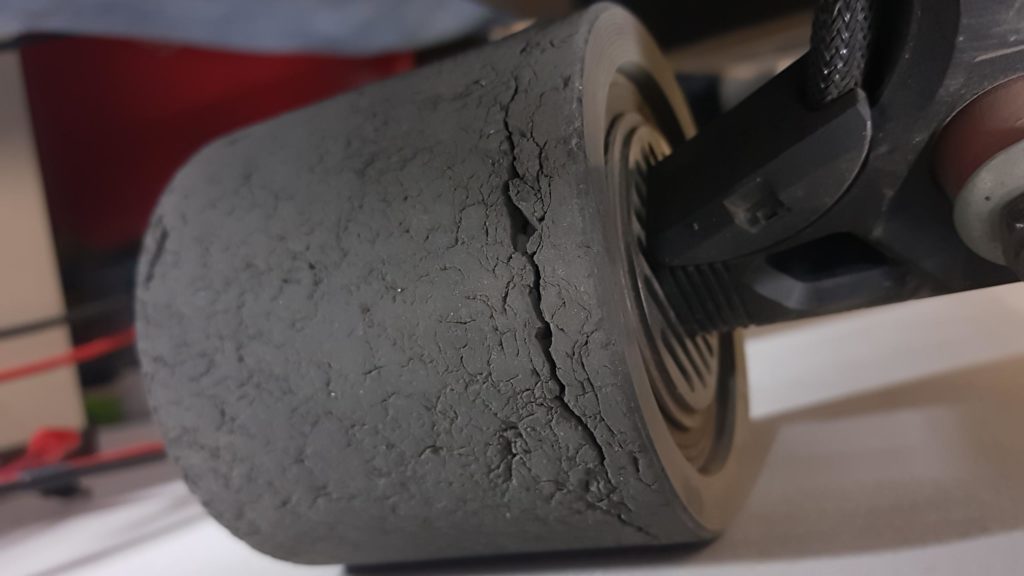 2018 – The odd W.A.S.P., Focbox Unity, and Raptor 2.1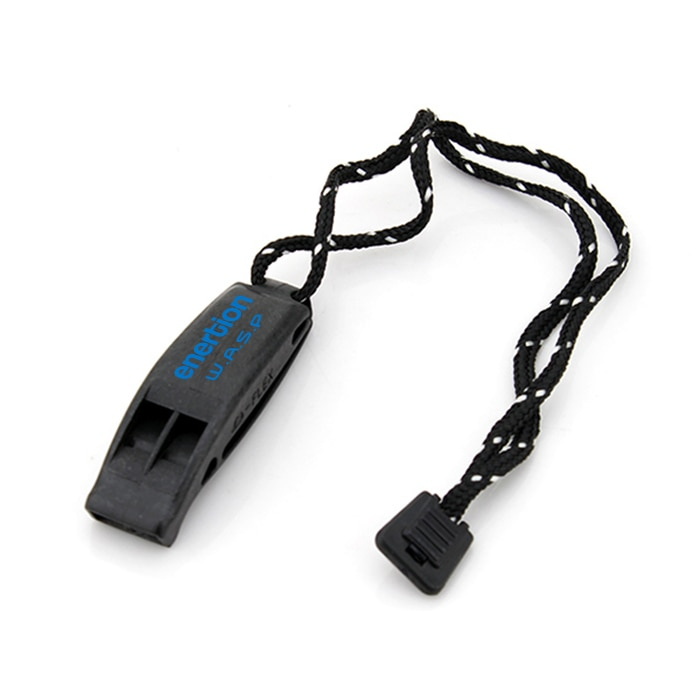 Probably the weirdest product ever launched into the Esk8 world, the Enertion wasp was a free add-on to purchases over $50. It was advertised as an item to use in crowded areas to make pedestrians more aware of the rider. Later on, the odd-looking whistle was poked at jokingly in reference to customers who never received their goods.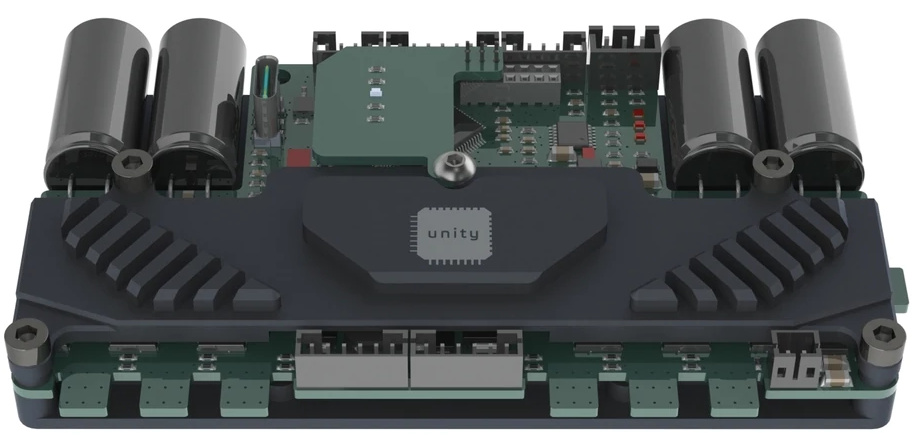 Hinted-at since June and officially announced in August of 2018, Enertion released what may have been their most successful product of all: The Focbox Unity was the new dual drive speed controller to fit growing demand for dual drive boards and ushering out the single drive era. Despite some comments about the awkwardness of the wire placement and connectors, the Unity was generally well received. Importantly though, there were issues with some of the earlier firmwares that made the unit extremely dangerous and caused two broken collar-bone incidents.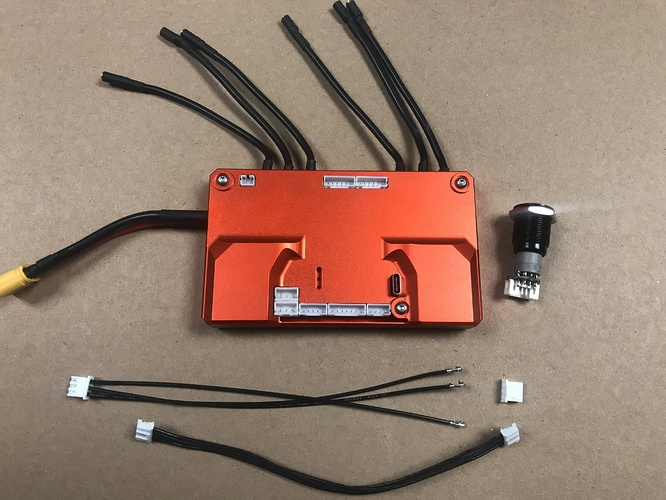 After the firmware issues were fixed, the integrated bluetooth module, USB-C connector, and extremely compact design at a price point of only $249 USD allowed the Unity to quickly soar in popularity. With few duds, the reliability of the speed controller allowed it to quickly gain value in the second hand market as well. Today, even after the Unity is out of production they can still be found for sale up to $400.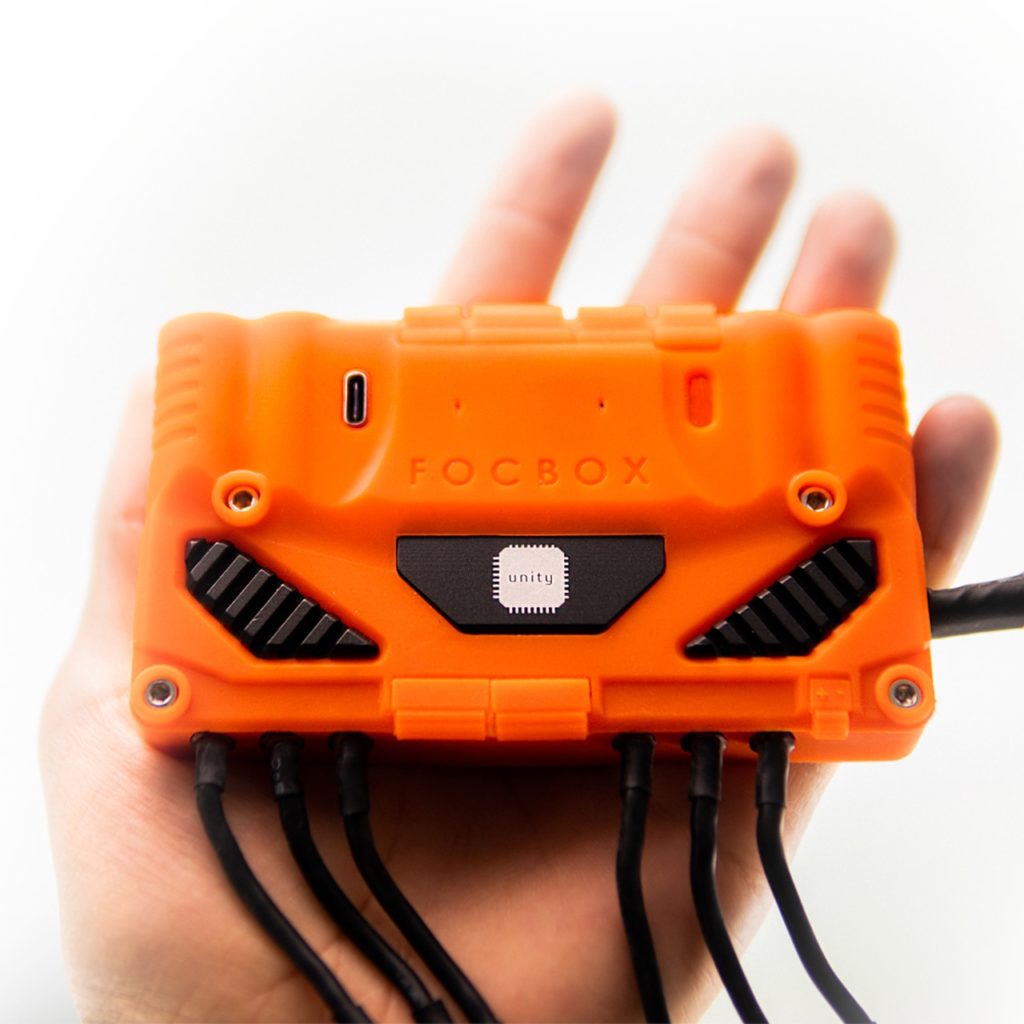 On the other end of the success experienced with the Unity, Enertion was eventually forced to respond to the myriad of complaints about the Raptor 2.0 with an improved model. A little over half a year after the original was released, the public first saw the Raptor 2.1 with official release around October.
The new variation boasted blue accents on the deck, a better placement of the handle, beefed up rear trucks with thicker axles, new urethane on the hub motors, and the Unity as a single solution for operating both hubs seamlessly.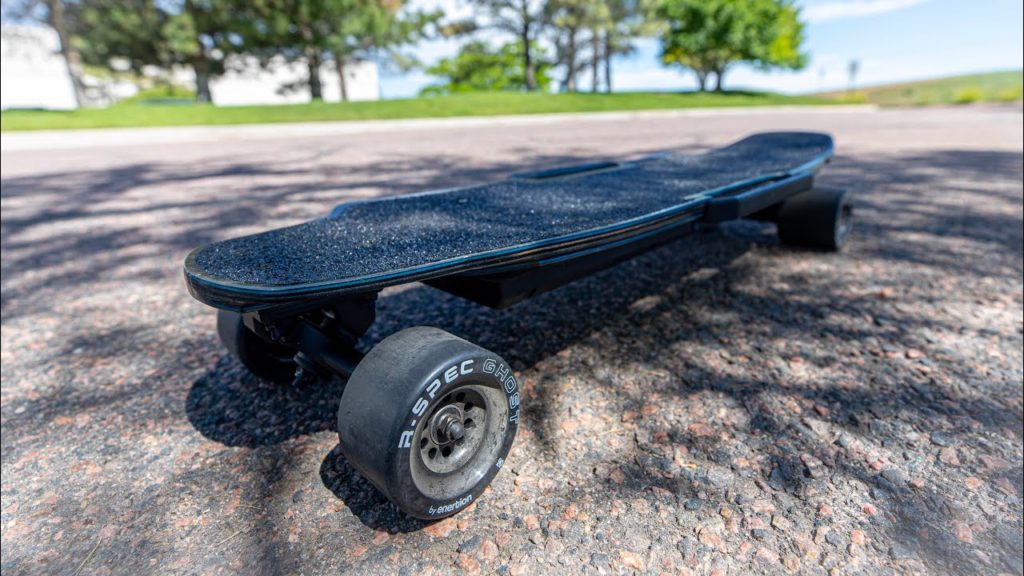 2019 – Downfall
Despite the immense success of the Unity, Enertion struggled throughout 2019. Customers were frustrated at unmet demands regarding issues with the Raptor 2.0 and 2.1, with the company continuing to promise fixes that never arrived.
The "improved" urethane sleeves that the Raptor hubs desperately needed vaporized, leading users to stop riding altogether or risk riding on their deteriorated wheels, often with disastrous effects. Perhaps if Enertion had the rear hub thane produced in the US like their advertising made it look instead of China (where the Raptor was built and assembled), it may have gone better.
There were also problems with the batteries and other aspects of the board. Of course, this onslaught of issues led to a huge uptick in customer service claims and the apparently understaffed Enertion struggled and failed to keep up.
This was the antithesis of the 110% guarantee that Enertion made such a big deal about. Items were shipped to Enertion under specialized warranties that customers paid extra for only to get them back after months of waiting if at all. Some came back without being fixed at all. Enertion's regional repair technicians were inundated with broken products and angry customers, and didn't receive enough support from Enertion to address these issues.
Raptor owners were understandingly frustrated because Enertion still couldn't manage to fix the urethane disintegration problem after nearly 2 years of promises and delays. This led to both Raptor 2.0 and 2.1 owners who had never had their issues and claims addressed by customer service to become frustrated and start voicing their displeasure on the Builder's Forum.
Instead of rising to the challenge, Jason and Enertion tried to sweep the truth under the rug by retreating to the safety of the "no vendor bashing" policy instituted a few years before on the forum. As you might expect, this method of avoiding responsibility was extremely controversial.
So many individuals called Jason out for these glaring issues in spite of the vendor rule. One frustrated member in particular made so much noise on the forum that Jason chose to fight with him instead of solve his problems, and then Jason banned that user and started banning/silencing other people that were long-term, good-standing members.
Community outcry and toxic disagreements with many of the regulars led to Jason leaving the site entirely on May 29th. It was later discovered that he created several new accounts and lurked around despite assurances to the contrary.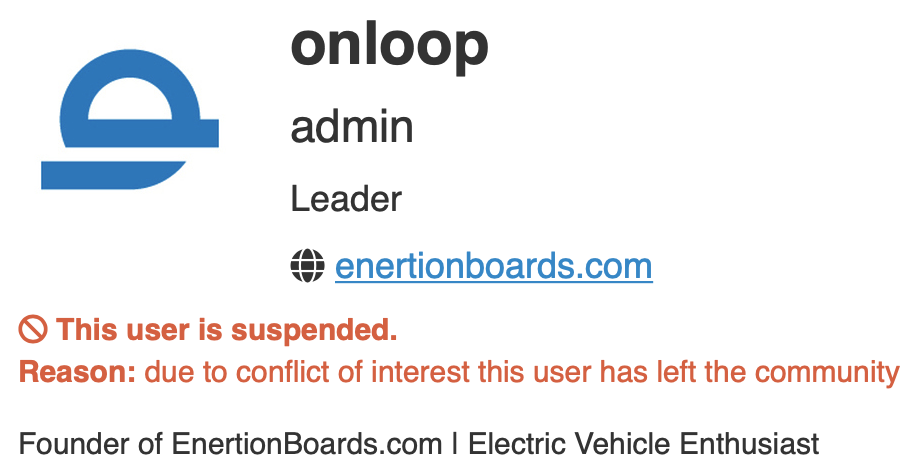 Disenchanted builder's forum users responded to the bans and blatant censorship by leaving en masse. They took their talents and ideas to the esk8.news forum, put together by our own Damon Wood (longhairedboy). Many felt it was the right move, given that Damon was always one of the most influential leaders on builder's forum.
Midway through 2019, Enertion made their most glaring mistake of all. Instead of addressing the mountain of problems with the company and the needs of the customers, Jason took his crew on a tour around the world marketing the Raptor 2.1. This convinced more people to purchase the board, but also angered current customers who were being ignored and ostracized.
I was in Europe at the time and met up with the team in Germany. This was my first time meeting Jason in person, and also the first and only time that I ever rode a Raptor. The Raptors that the Enertion staff brought to Berlin were in decent condition and I had a good time at the event, which gave me hope for the company's future. The staff also hinted at some new products coming out in 2019/2020 that sounded really promising.
Unfortunately, as the Raptor Ruckus tour came to an end it became clear that Enertion was in worse condition than anyone thought. In October, the esk8 builders forum went down with a message that made it look like it could be the end. Admittedly, I panicked and wrote a quick emotional article about the end of Enertion (this was taken down. Sorry Bill!).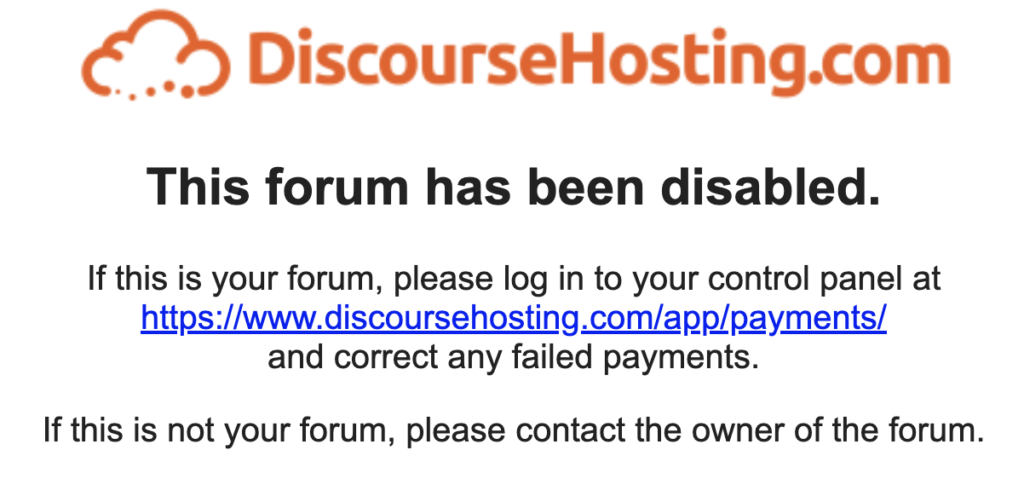 Members who had moved to the esk8.news forums made an effort to start saving their important threads. Since then, the builders forum has gone down every month for a short period of time leaving many wondering when it will go down for good.
In November, the esk8 scene was presented with one last grab at existence from Enertion in the form of EnertionBoardsUSA. Many by then were convinced that the company was completely dead due to "supplier engineering-, production- & QC over-promises and under-delivery, then Jason got backed into a corner and tried to defend himself like a rabid animal", as Johann Malherbe puts it on the esk8.news forum.
However, Enertion's survival was once more put into question when the Unity controller suddenly showed up for sale on Amazon Prime. After some digging, we discovered that the man behind it was Kurt Benson, an e-mobility enthusiast. Kurt consented to an interview and responded to every question and complaint that came his way on esk8.news forum. The Unity units he sold through Amazon came quickly and worked perfectly, seemingly showing that Potter and his team had a little more fight left.
2020 – The End of an Era.
On January 9th, 2020, Kurt Benson announced that EnertionBoardsUSA would not be placing any more bulk orders with its parent company, signaling the end of the Unity being sold on Amazon. Members rushed to purchase the last of them online, and then that was it. According to Kurt's last words on the subject, "This almost definitely means the end of Enertion as they don't have any other option but to declare insolvency". With that, I think it is finally time for all of us to put Enertion to rest.
Parting thoughts.
In the end, it's hard to pinpoint exactly what killed the company that dominated and pioneered the DIY scene for half a decade. Many would argue that it was simply due to the pig-headedness of Jason Potter, but I believe it was a combination of all factors. Half-baked ideas, poor quality products, and nonexistent customer service is a recipe for disaster for any company.
With that, I'd like to say goodbye to the monolithic company and its horrible but somehow likable blue tinge. We loved you, but not all is meant to be.
R.I.P. EnertionBoards.
Latest posts by Ben Schwartz
(see all)