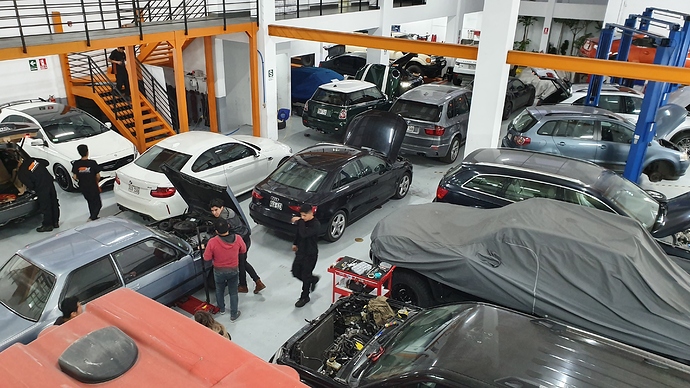 While there are a number of people offering quality enclosures in the esk8 world, perhaps no one delivers on the aesthetic front as impressively as Alan Chau. His work is not only meticulous, but incorporates design elements that are surprising and original.
He took time out of his busy schedule to share some details on his journey.
1. What first got you interested in esk8?
12 years ago I had a motorcycle accident, I fell down from my Yamaha R1 on a high speed highway at 100mph. Thank God, I survived the accident and I'm grateful to have a second chance to live. However, I had a brachial plexus injury and I lost most of the movement of my left arm and my left hand. Years passed by and I'm happy to have completely adapt to life.
4 years ago, my driving license was suspended because of that accident, this speaks for itself of the slow/inefficient legal system we have here in Peru.
This forced me to look for alternative commuting methods, I could not ride a motorcycle or bicycle because of my left arm injury, so I looked for electric skateboards as you only need to use your feet and the right arm/hand to ride it. One week later I placed a pre-order for an Evolve Bamboo GT and got it 2 months later, this was a life changer.
2. How did the idea to build custom enclosures come about?
After being left stranded by a couple of mechanical/electric break-downs on my Bamboo GT I decided I needed a second spare eboard, so I joined the electric builders forum and started to research for parts, a couple of weeks later I was ready to take the plunge and order parts from all around the world for my first build with the Loaded Vanguard.
Enclosures were a challenge and at the time there were no options. I remember a user called @jackw who had designed a two part enclosure in 3D, he kindly offered the Stl file and I printed locally, however the fitment wasn't perfect and it broke at the first ride, so I used the printed enclosure to make a fiberglass mold with flexible resin to withstand the extreme flex of the Vanguard.
So this is how the first enclosure was born. I wasn't thinking about selling them to the forum members at all but after so many requests I decided I should invest some time perfecting the mold, design and materials to be worth selling.
3. Was it in dealing with enclosure customers that you saw the natural fit for offering battery building services as well?
When you visit the forum everyday, you find new builders struggling to build a quality battery leaving basic safety procedures out of their battery builds, taking too long or being forced to buy expensive equipment just to make one battery. I've been there and done that.
So, I thought offering complete eboxes was a natural process to help people to finish their builds in a fraction of the time they estimated. I'm currently working to bring these prices down and offer a quality finished product, enclosure, bms, bolt kit, battery ready to use at competitive prices.
4. Will there come a time that you offer custom decks to further improve the custom fit and finish you're known for?
My main job as a manager of a car shop won't allow me to spend more time on this side business, my nights and weekends building are the perfect dose of distraction at the moment.
5. For those that know you from the forums, you are an accomplished builder of completes as well. What is your current favourite board?
I have found that my favorite board is always the last one I build, you apply all experience and learn from the mistakes on the previous build, you take out what didn't work and repeat what you liked, trying new parts such as decks, wheels, gear drives and batteries and continuously experiment, this is where the fun is.
If I have to choose one I'd chose my Subsonic Century 40″, the acceleration, torque and power delivery is insane with a 12s4p made of 21700 Samsung 30Ts cells, it's almost 50% more powerful than my 12s5p made with Samsung 30Q Moonshine Sidekick, the acceleration is ridiculous and pretty addictive, so are the Surfrodz 200mm RKPs and the amazing Bergmeister wheels only complemented by the Lamborghini motor cover inspired enclosure underneath.
6. Given your overall skill set, will we ever see complete eBoosted boards on offer?
I think this market is pretty flooded with Chinese boards with impossible to compete prices, this added to the fact they have grown on quality in the last year and understanding the budget of an average electric skateboard is usually pretty low, the chances of developing a successful business grows dark.
Nevertheless, I understand there is a lot of market potential for niche customer who wants the best eboards out there, check Bioboards for instance, they are selling eboards with top notch products with high end parts with an over the average price tag and they are selling like hotcakes. So, I keep myself open to future business with the best parts out there.
7. What challenges have you found in shipping batteries and enclosures from Peru to other countries?
The most difficult part is to make a battery when I'm abroad, as I travel a lot to USA I have prebuilt P Groups 1s4p, 1s8p, 1s5p, ready to connect with silicon wires depending on the enclosure they are ordered for, so the job gets done easier and faster.
8) In your photos, the background is a remarkably pristine shop with many nice cars. Can we ask what is your main business?
I'm a Plant Machinery Technician and a International Business Manager, I co-own a car shop for mainly BMW, Mercedes, Audi, Porsche and some Ferraris, Lamborghinis and McLaren. We specialize in chiptuning, exhaust upgrades, brake upgrades, sport suspensions, racing alignment and also regular car maintenance, diagnose and heavy repairs, and we support the local racing scene in trackdays and local racing teams and distribute Akrapovic, AMS, Forgeline, Cobb, IPe F1, Stoptech, Pagid.
We recently bought land and built our dream shop with a 20 year mortgage, so financially we can barely make it to the end of the month, but I'm the happiest person in the world when I work from 10 to 8.
9. What would you like to see more of in esk8?
I'd love to see more riders and builders in Peru, I think this has evolved a lot in North America, Europe and Asia but here in Lima Peru, I'm the only builder I'm aware of. Fortunately I have this forum to feel like I do have brothers and sisters all around the world who understand exactly what I think before I go to bed.
Electronic and software development, very efficient gear drives, reliable motors, off the shelf integrated decks and of course my all time favorite: "dogs riding esk8s."
10. What would you like to see less of in esk8?
Esk8s burning down due bad battery building procedures, cheap electronics blowing magic smoke, people trying to bring down businesses because they had a bad experience with sellers, people having fatal accidents because of lack of protective gear, that's what I like to see less.
Latest posts by BillGordon
(see all)