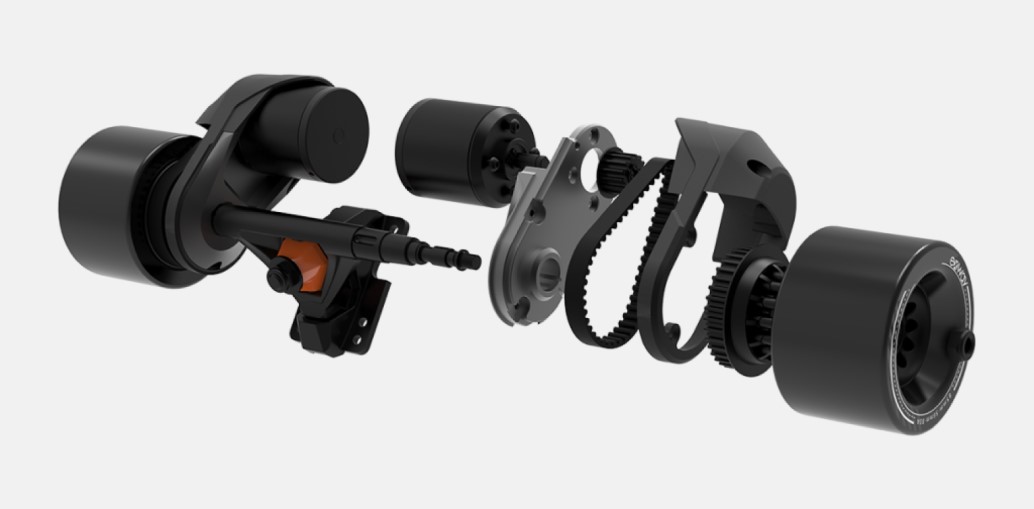 Thanks to the fine folks at Exway, I've had extensive time with the X1 Pro over the last few months. In my original review, I think I made it clear that IMHO this is a very unique and special esk8:
https://esk8.news/the-exway-x1-pro-think-of-it-as-a-1375-lexus/
A few weeks after I posted that review, they sent us a Riot belt drive unit. Even before it arrived, part of me was worried that I would end up with a different drive type that felt depressingly similar to the hub version. Would this different drive have its own personality or would it feel like a different way to get the same place?
I started getting the answer as soon as I swapped the Riot system into place, since the ESCs on the board were now singing a different electronic tune just sitting there. It sounded a bit like someone rolling a ball bearing around a metal cup. With the hubs, there's little or no noise from the ESCs.
The swap really couldn't be easier, no matter what level of comfort you have with electronics or boards. You just peel back the grip tape to expose and remove the hardware, lift the hub version drive up to expose the 9-pin connectors built into the deck, and then carefully place the Riot system into place and press the connectors down into the same pin slots. You'll know you have a good connection when the escs start talking to you. (Ignore what they say about me. I only thumbed the remote.)
Then you go into the Exway app on your phone, check for the latest firmware and update if necessary, then select the Riot option and check to make sure your other settings are still the way you like them. I keep Turbo mode on, set it to race settings with 4th gear acceleration and braking maxed out, enable "change gears while moving" and leave cruise control and free ride selections off.
Once I took it out and put the pedal to the metal, those earlier concerns about personality disappeared like friends when it's time to move. With Riot running the show, the Exway X1 Pro takes on a completely different character. If this were an 80s rock video, instead of the hot librarian staring you up and down over her glasses, she's taken them off, let down her hair, and is crawling over the reading table towards you.
While the hub version is a punchy rotary engine that provides smooth and abundant power and a steady but restrained hum throughout it's range, the Exway Riot is more like a finely tuned muscle car that screams a bit as it launches you forward, then continues pulling nicely and whining loudly all the way up to the increased top speed. I also get the odd whistle sound thrown in there. Even though it's a good deal louder, the effect is very pleasing and even a little thrilling.
It's also noticeably faster than the hub setup, and that drive is no slouch. I got a top speed of 26.2 miles an hour, up from the barely-breaking 25 I get with the hubs. Braking power is also increased, even though the hub braking was already quite good. I ended up with a bit less range with Riot, but range is not the goal with the Exway Pro and I'm constantly on the throttle with these motors. Speaking of which, these 5255 160kv duals have made me take 50XX motors seriously again.
Of course, since I'm around 225 lbs, riders of an average weight or lower will be getting a significant boost in power and range. (In search of those additional performance and range gains, I'm considering overall body mass reduction through partial limb and torso modifications. With the right bit on my Dremel, it should only take a few days.)
Because Exway has some kind of fucked-up crazy magic in their engineering, it all happens with the trademark control and smoothness I've come to expect from them. Hobbywing ESCs are already the best non-vesc motor controllers available, but Exway fine tunes them with an expertise no other manufacturer can match.
Contrary to my expectations, however, Riot didn't provide a huge comfort upgrade, which I believe has more to do with them getting the hub thane right then any indictment of the full urethane wheels that come with Riot. With the current adapters, you can swap in a set of Caguamas or Kegels, which should provide that bump in comfort and ride quality I was hoping to get.
Now that the official review period has ended with Riot, I find that I'm in no hurry to return the Exway Pro back to its original hub state.
Because as much as I admire Lexus, I've always wanted a Corvette.
Latest posts by BillGordon
(see all)