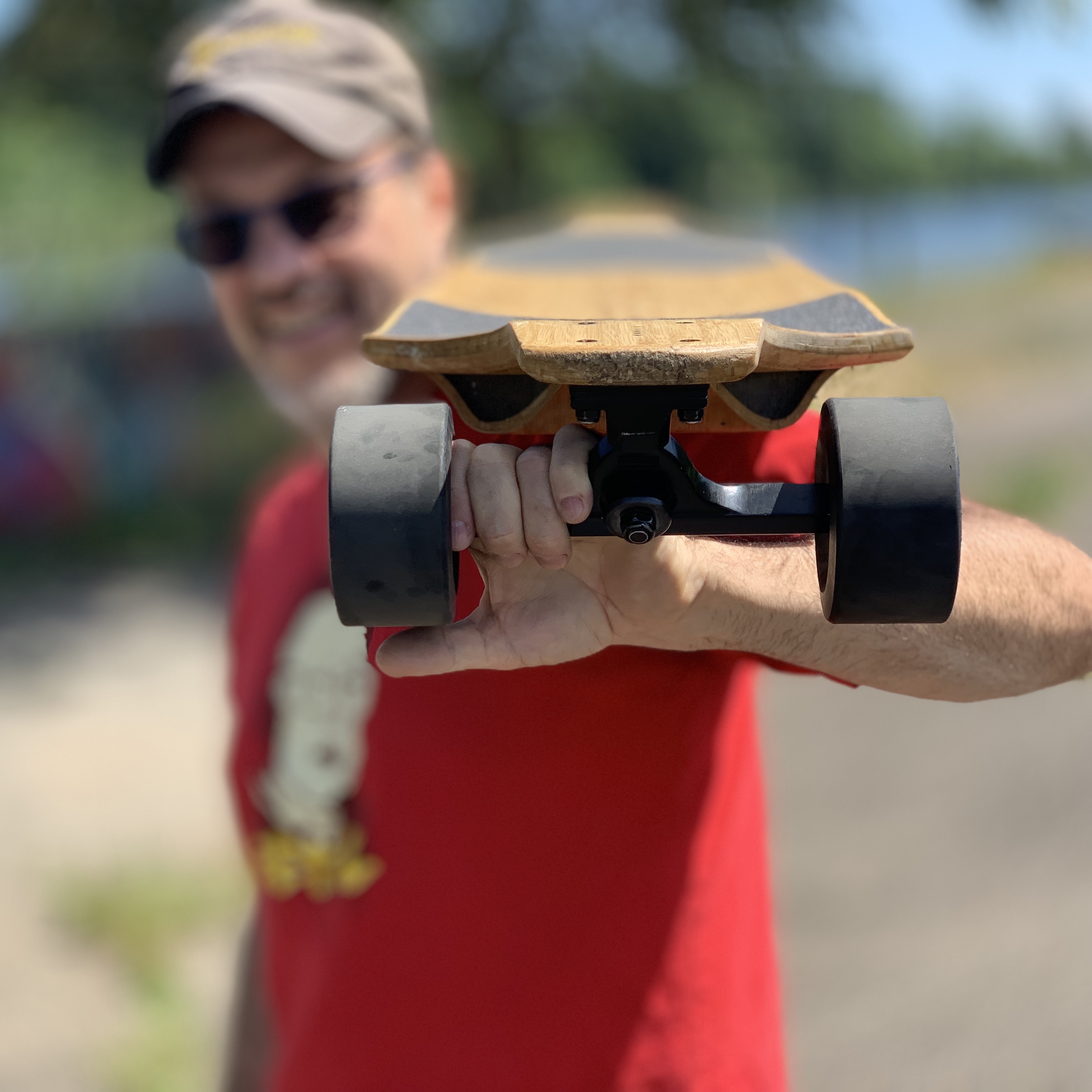 When Hoyt St. first appeared on the scene, they didn't just bring out another new board. Rather, they launched an entirely new category of esk8: the high-functioning, electric-powered work of art. From the choice of sustainable bamboo decks, the flowing enclosure design, swappable flight-safe batteries, and the Puck remote, every choice was carefully curated to produce a stunning and unique new offering.
We were fortunate enough to get Jeff Johnson of Hoyt St. to take some time with us.
1. What was the driving force behind starting Hoyt St?
Our co-founder fell in love with the rush of eSk8 while exploring ways to improve his balance for surfing. In doing so, he believed there was opportunity in the market and approached me as I was retiring from 30 years of footwear innovation at Nike (foamposite, flywire, hyperfuse, etc). Took us about 18 months to enter the market and we definitely learned a lot along the way; about eSk8, business creation and ourselves. Been a fun and interesting ride.
2. There are other quality boards out there, but nothing that approaches the design aesthetic of Hoyt St boards. Did you deliberately set out to build them that way or was it an evolutionary discovery along the design path?

Yes, the initial discussion within Hoyt was about hitting the market fast vs bringing something new and meaningful to the market. Hitting the market fast would have meant harvesting the work of others and entering the market with a budget board. And you can't really do that without volume. As a startup, seemed more prudent to start small, focus on quality and design and bring the heat. In hindsight, it was absolutely the right call.

3. You took the unusual step of designing your own motors and drivetrain with your boards. What was the reason behind that?

The intent was to prioritize quality, reliability and design. To bring something powerful and beautiful. Art meets eSk8. To create the dilemma of whether to ride it or hang it on your wall.
To do that, we felt we needed to design and build from the ground up and work with like minded vendors who were committed to uncompromised quality and reliability.

4. You recently brought out a new grip tape design. Was that more promotional or will you be adding it permanently to the product line? Do you plan on introducing new grip tape designs to continually keep things fresh?

The new PDX map design was meant to be an offering for a local retailer but that's been put on hold. But social media demands red meat and it doesn't get much more red than that beauty. We will continue to explore new methods to celebrate and accentuate the beauty of the bamboo and bring compelling relevant graphics to market.
Will the PDX map design make it into the line up? Probably, but I'd like to see it coupled with similar graphics for other cities…which cities/neighborhoods should we include?
(We will be making this a thread and welcoming submission ideas from the community. Will post link here when up and running.)

5. Your wooden-encased Puck remote has been a hit in its own right, and you will be releasing a new version called Midnight with a more affordable injection-molded nylon shell soon.Will you be phasing out the original or adding new wooden case options?

As our deck maker, Mike Pullen of Bamboo Revolution, would say "Wood is a four letter word". Our deck and remote is 100% bamboo, a fast growing and highly sustainable grass. But to answer the question, the boards will continue to be coupled with the bamboo remote and be available in various colors with personalization. The injected midnight puck is in the works; received the first proto last week but it requires some revision so we're unfortunately looking at more delay. The midnight puck offering is purely about supporting the DIY community – skaters helping skaters. It is expected to retail for $99.

6. Will Hoyt St be bringing out an AT board in the future?

Yes, an AT design is currently in the works. It will feature pneumatic tires, increased range (both flyable and non-flyable) and a slightly broader stance.
Before the AT however, we expect to introduce a shorty as well as 5" UT (urban terrain) pneumatics that will work with the current EL1 deck.
Rounding out the near future will be a 4×4 Racer to keep my man @nointro happy.

7. If you are at liberty to discuss, will Hoyt St be adding other product categories such as helmets, lights or protective gear to the product line?

No plans on that front at present. We have our hands full with the core product. Lazyrollers seem to be doing a nice job with protective gear. Good guys too.

8. I have to believe that you have been approached by other companies/manufacturers for design assistance. Would you ever consider offering this part of your expertise to other markets/manufacturers like Pininfarina or Philippe Starck does?

As of yet, we have not been approached but are def open to collabs.

9. What would you like to see more of in esk8?

An enhanced understanding in the community that quality and innovation doesn't come cheap.
I also have to call out the collaborative and supportive nature of the industry. Hanging out and sharing insights with Ernesto, LaCroix and Enertion crews, LHB and others (Psychotiller unfortunately not in attendance) in Colorado a week ago was amazing. The positive energy and mutual support is really neat to experience first hand. More of that please!

10. What would you like to see less of in esk8?

For the most part, the eSk8 community is a fantastic and diverse group of people. The acceptance of different board forms, riding styles, life styles, etc has generally been quite high but the trolling and negative energy seems to be on the rise. We all need to resist that and celebrate all riders and electric solutions. It may not be what or how you want to ride and that's cool but focus on the positive.

Latest posts by BillGordon
(see all)