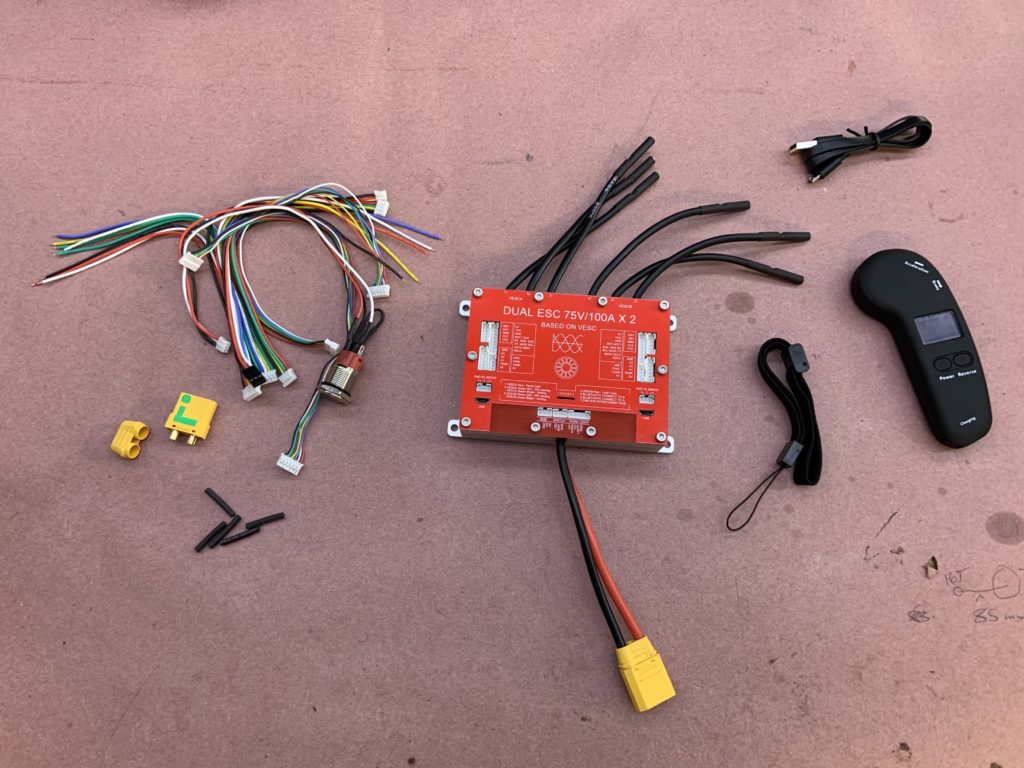 Not too long ago I was contacted on the forum by Spintend to review their new motor controller, the Ubox. Full disclosure, I mostly agreed to review it so I could get one and ride it until it broke. It usually doesn't take long for me to break the motor controllers people from already inside the industry send to me, so I wasn't expecting much from some new company dipping a toe in electric skateboarding. A lot of the time when the product is crap I don't even write about it because I don't want this site filled with hate rants on niche tech.

Spintend's about page is a short read about a guy named John who has the revelation that most VESC based controllers are mostly about electric skateboards and not really about electric bikes. This, coupled with a picture of a man standing behind his ebike with his head just out of frame, paints a picture in my mind of someone wanting to revolutionize the electric bike industry but accidentally tripping over an esk8 only to bonk his head and have a vision of solving problems in both worlds. Possibly yelling "great scott!" in the process.
And John may have done just that. While there are some pretty minor annoyances with the product, overall it is a breath of fresh air compared to the usual fodder in the battle field of over hyped and over priced main staples and over priced cheaply produced garbage. And on top of that, it fills a gap that needs filling: it will allow you to move beyond 12S voltages in your board.
Before I go much further, let me warn you: I'm not going to fill your faces with graphs and charts and engineering speak about log data. Instead I want to speak about usability and capabilities, and the UBOX is filled with both.
The Remote
The package I received and installed in my board included a Uni1 remote as well as the UBOX ESC, but you can optionally buy it without the remote. You may save $30 not getting the remote with it, but you will not find one for that amount of money that feels this good in your hand and also has telemetry on the handle.
The feel of the throttle, one of the most important aspects of any remote, is more than satisfactory. These days it really doesn't take much to get this part right, but lots of remotes I've tried in the past have failed at it. With the exception of the Hoyt Puck on rare occasion, I primarily use Flipsky VX1 remotes due to their feel, simplicity, presence of a battery level meter, and ease of setup. The Uni1's shell feels a lot like the FS VX1 in the hand and has a similar feel to the throttle wheel.
The screen on the handle displays several key items such as battery levels for both the remote and the board, speed, trip meter, and even current draw in real time, and it has three speed modes to allow your beast to be tamed a bit for your friends to try it out. Options for setting things like battery cell count, motor poles, gearing, and wheel height are available through a menu on the remote itself. It even has support for battery cell level displays provided you have a smart BMS that will work with the ESC over a UART connection.
Button placement on the handle may be an annoyance to some, as the idea of accidentally holding a power button down while riding hard is terrifying. The buttons are right where your finger tips might end up after wrapping your hand around the handle. Spintend addressed this potential issue by requiring both buttons to be pressed and held in order to power of the remote. This drastically reduces the risk of accidentally killing your throttle and brake control, but isn't exactly intuitive since only one of the buttons has an actual power symbol on it.

Of course seeing the screen and risking an accidental button press would mean you are holding the remote in your right hand. If you hold it in the left, the screen and buttons will happily bury themselves in your palm, making access to them impossible. This is definitely a right handed remote, but the same could be said about the VX1 as well.
A 75 volt, 200 Amp ESC In Your Board
Ubox touts the capability to handle 16S voltages with a warning not to allow peak voltages beyond 80v. That maximum voltage is well above fully charged 16S, so even with regen spikes from braking it should have plenty of headroom. The 200 amp rating means up to 100 amps per motor, and judging by the size of the unit and the sink on it, the Ubox might actually be able to handle all of that. Some members of the esk8 community are already running these controllers above 12S with little or no reports of problems so far. Because of limitations with my current test rig I was only able to test the Ubox at 12S, but my experience with it was downright pleasant.

Take note that the Ubox is not small. As far as dual ESCs go, it is actually kind of large. Dimensions are listed as 145mm x 83mm x 25mm, and that 25mm in height is going to restrict installation to what we traditionally call double stack enclosures. Fortunately it would seem that eboosted is always working on some new enclosures, even some with larger ESC compartments, so maybe the size issue will be moot soon.
Setting it up is just like any other VESC based ESC. After connecting it to your motors and battery, you just download VESC Tool, connect to it, run the detection wizards, change your motor and battery settings on each side, and it's done. But with this package, there's no receiver to install. The receiver for the remote is built in and already "just works" with it.

There is also a built in Bluetooth module for the Android VESC Tool users and a built in 12v (max 3amps) output which is nice for running LEDs and homebrew headlight and tail light solutions. There is also support for a horn, though I was unable to test that feature. This level of integration makes for a very clean install with minimal wiring.
Being able to handle much higher currents and voltages than the typical 12S rated ESCs signals the ability to handle 12S with no weird issues while running relatively cool, and that was my finding. At the moment I exclusively build 12S systems, and run my boards anywhere between 40 to 50 battery amps per side, with motor amps ranging anywhere from 65 to 100 depending on what I'm building and for who. These kinds of settings will barely make the Ubox warm up, so most builds will not need a whole lot of breathing space or exposed heat sinks.

And unlike a lot of the ESCs out there, it does not come with a latching switch type button. While big and beefy and lit up with LEDs, it is a momentary button. So feel free to put this in a urethane based build and clatter over boardwalks all day without fear of turning your board off while you're on it.

But what is it like on the street? Perfect, basically. The feel of the ride was more like running two high end single ESCs than the feel of a Unity style dual ESC. This is likely because it actually is two discrete controllers joined over CAN bus in one box and not a single processor jumping between two motors constantly. Hard acceleration, hard enough braking to make even properly tensioned belts skip, and long battery draining jaunts were deliciously predictable and uneventful. No weird stuff at the top end, no weird stuff when braking hard down long stretches, just smooth and reliable power delivery and regeneration.
Some Minor Annoyances
The 25mm height of the ESC will limit your enclosure selection. If you have a slender single stack 18650 style enclosure, you're not going to fit this in there. Even a single layer enclosure designed for 21700 sized cells may have a difficult time with this one. However, the Ubox is leading the charge into affordable higher series count builds, so maybe that's not such a bad thing. You're going to want a larger pack anyway, and there are at least a few reliable 12S options for smaller builds anyway. So maybe it's time to build that long range high voltage cruiser you've been wanting.
Also, the remote must be turned on before the ESC, which is annoying, but kind of nitpicky to even mention. Most remotes these days don't care if the remote or the board is turned on first. Because of this, there may be a bit of habit breaking involved in using this motor controller in your daily rider.
One other annoyance, though not really about the ESC itself, is that most of the motors we use for esk8 are only rated for 14S voltages. While this may deter some people from running their boards at 16S, 14S is totally doable and 16S is also probably fine if you reduce the current. Motors can be sensitive to power handling maximums, and for the most part specified voltage ranges apply to that. But if you reduce the current when you increase the voltage when setting it up, its possible to enjoy the benefits of higher voltage such as better efficiency and faster charging times, without going out of the power handling comfort zone of your motors.
Conclusions
At $279 with the great feeling telemetry enabled remote included it definitely performed better than anything else in it's price range. I would even argue it performed as good or better than some well above it. If you have the space in the enclosure for it, it is a strong alternative to the Stormcore 100D at almost half the price. It delivered what I wanted when I wanted it, and did so smoothly and without issue.
Recommendation: Buy if you're interested in moving past 12S and / or like integrated features in a rock solid motor controller and don't mind the space requirements.
Latest posts by damon wood
(see all)